Eight Open Source Myths Corrected
Eight Open Source Myths Corrected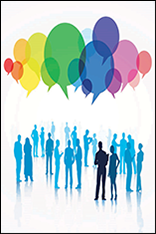 For the software community, open source is more than just a term of art, it's a philosophy. Open exchange, participation, rapid prototyping and meritocracy are the official values of the "open source way." Sounds compatible with academia, doesn't it?
Many agree, but before you post code to Github, you may want to get some advice from the University of Maryland's Office of Technology Commercialization (OTC). While the office has granted 100 percent of open source requests, confusion remains about what open source is and when it should be used. Leslie Long and Alla McCoy, part of the OTC product licensing staff, clarified eight misconceptions University faculty may have about using open source.
MYTH #1:
The University wants to patent all technologies.
Software cannot be patented unless there is a new method of doing something that the software implements. More often, software is licensed to companies found with OTC staff market research during the invention disclosure process.  "Software works differently," Long said. Since software is also protectable with copyright, the protections offered may be preferable to the cost and uncertainty of trying to get a patent. While seeking patent protection is a way to get University developed technology out into the world, open sourcing software is a viable alternative in some cases.
MYTH #2:
"If I'm going to open source my software, I don't need to disclose it to OTC."
When a research product is federally funded, the university can elect to take ownership of any intellectual property created by the product under the funding agreement, McCoy said. By default, the government owns federally funded projects. OTC handles the process for the University to report inventions to the federal government, which is separate from reporting PLs to the sponsoring agency. 
MYTH #3:
Open source = totally open. 
Open source projects can vary greatly in "openness." Some licenses are very permissive while others limit where and how the software can be used, and may include responsibility to contribute any developments back to the community. OTC works with developers to determine what the most appropriate license for a given project is. 
MYTH #4:
Making the compiled code, or the .exe file, available = open sourcing your software.
In open source licenses, the source code has to be made available for others to see. If developers release only the executable form of program, but attach an open source license, they could fail to live up to the terms of the license they chose.  The "source" in open source stems from this code. "Everybody writes software these days and some don't realize the distinction," McCoy said..
MYTH #5:
Open source software can't be commercialized.
Open source "can be a viable and successful business model, just think of Red Hat," McCoy said. Many successful business models use open source software and offer these types of options to users:
Freemium/Premium – Offer a free basic version of the software but sell a more encompassing premium model. (Wordpress, Cloudera)
Enterprise Support – Offer a free software product but offer paid support and implementation of the product. (Red Hat)
Widget Frosting – Offer free software attached to paid for hardware (TiVo)
Donations – Offer a free software product but ask for donations. (Firefox, VLC Player)
Advertising – Offer a free software product and show advertisements - (Google, Adblock)
Multi-licensing – Offer free software under a free version and a proprietary license (Qt)
MYTH #6:
The University only works with projects that will make a large profit.
We understand not every project will be the next million dollar idea, McCoy said. "Sometimes software has a very narrow application or sometimes it just doesn't offer enough value." Even if there's inherent value but little commercial value, we still work with people. "We're here to help protect and assist in distributing their research," Long said.
MYTH #7:
Public domain = open source.
"If you don't attach an open source license and just put your code out there then it's public domain and people can do with it whatever they want," McCoy said. If a software project is made available through a website or Github and is not accompanied with a license, anyone can use it for any purpose. Releasing software under the right type of open source license ensures that the developers and the University are protected in the future. 
MYTH #8:
Open source is only for the computer science department.
OTC will work with any department on campus and has worked with the College of Arts & Humanities, the Department of Psychology, the Department of Geology, The Center for Advanced Study of Language (CASL) as well as the National Consortium for the Study of Terrorism and Responses to Terrorism (START).  "These days everybody writes software," said Long. How to appropriately release software is a potential concern for almost any academic department within the University.
For more information about open source, contact the Office of Technology Commercialization.
Related Articles:
UMD Transplant Organ Flight Named Invention of the Year
Envisioning the Future of Urban Transportation
4D Bioprinting Smart Constructs for the Heart
Advancing Healthcare through Robotics and Machine Learning
UMD Researchers Develop Technique to Advance Cell-Based Systems
Jewell Lab Awarded Two NIH R01 Bioengineering Research Grants
Helping robots remember
Reversible Chemistry Clears Path for Safer Batteries
Partnering for Quantum Leaps
UMD Astronomers to Analyze Surface of Comet as Spacecraft Drops Robotic Probe on It
September 15, 2014
Prev
Next
Did You Know
UMD is the only major public research university inside the Washington, DC beltway!!