Flexible Nanopaper Featured in Chemical & Engineering News
Flexible Nanopaper Featured in Chemical & Engineering News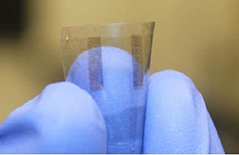 An innovation in nanoscale technology, and an interview with co-author Liangbing Hu (Department of Materials Science and Engineering, University of Maryland Energy Research Center, and the Maryland NanoCenter), was the focus of an article recently published in the American Chemical Society's news magazine.
"To make paper-based circuits that can perform calculations or control displays, researchers need to find a way to print transistors. Unfortunately, previous paper transistors perform poorly because the surface of regular paper is bumpy and uneven…In addition to its rough surface, regular paper's other limitation is its opaqueness. To produce electronics for transparent displays, researchers need a transparent material, like plastic or glass.

"Liangbing Hu, a materials scientist at the University of Maryland, College Park, turned to a smooth and transparent kind of paper called nanopaper. Instead of the micrometer-sized cellulose fibers found in regular paper, sheets of this material contain nanoscale fibers that produce an even surface and allow light to pass through.

"Hu's group made their own nanopaper using previously reported methods, which involve treating paper pulp with oxidizing chemicals. The nanopaper has cellulose fibers with an average diameter of 10 nm. "It's as flat as plastic," Hu says."
Other authors included John Cumings, (MSE, NanoCenter); Jia Huang, (MSE, Center for Nanophysics and Advanced Materials); Colin Preston (MSE) and Kathleen Rohrbach, an undergraduate student.
The research was first published in the journal ACSNano.
Highly Transparent and Flexible Nanopaper Transistor
Hongli Zhu, Liangbing Hu, John Cumings, Jia Huang, Yuchen Chen, Colin Preston, Kathleen Rohrbach
ACS Nano, 2013-01, pp.130125101647001-
http://pubs.acs.org/doi/abs/10.1021/nn304407r
Related Articles:
Li and Hu Awarded NSF Grant to Study Challenges in Creating Materials that are Both Stronger and Tougher
February 6, 2013
Prev
Next