Growing Climate Risks to Crops
Growing Climate Risks to Crops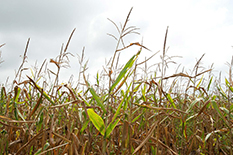 The increasing regional specialization of U.S. crop production has made the country more vulnerable to a changing climate, with rain-fed Midwestern crops most strongly affected, UMD and Cornell researchers recently found.
The research published in Science Advances integrates weather and productivity data nationwide, finding that the tendency of Midwest farms to focus on rain-fed crops like corn and soybeans has made yearly outputs increasingly variable amid more-frequent droughts and a lack of access to irrigation.
"All agriculture is not the same across the country," says Professor Bob Chambers of UMD's Department of Agricultural & Resource Economics. "People outside the industry have a stylized image of the American farmer, but we want to show the broader representation of differences across the industry and factor weather into that picture."
To get this big picture, Chambers and Ariel Ortiz-Bobea Ph.D. '13, assistant professor of applied economics and management at Cornell University and an alumnus of UMD's Agricultural & Resource Economics program, used state-level measures of agricultural productivity that capture how agricultural inputs like seeds, feed, fertilizer, equipment and herbicides are translated into economic outputs. The researchers mapped that information against decades of climate data from 1960 through 2004.
"The trends show that increases in concentrated and specialized crops are leading to greater vulnerability to weather events," said Chambers.
Changes in agriculture in recent decades heightened the effect, Ortiz-Bobea said.
"Most of the agriculture in the Midwest is corn and soybeans. And that's even more true today than it was 40 years ago," he said. "That has implications for the resilience to climate of that region, because they're basically putting all their eggs in one basket, and that basket is getting more sensitive."
The data for the analysis are from the U.S. Department of Agriculture's Economic Research Service, pioneered under V. Eldon Ball Ph.D. '87, a now-retired senior economist and alumnus of UMD's Agricultural & Resource Economics program. Ball is credited by USDA as "the singular driving force in leading the USDA to create a state-of-the-art system of official statistics on productivity that has served as a model in this important area of research."
Among the researchers' new findings in the data: When the temperature increased 2 degrees over the summer in the 1960s and '70s, productivity dropped 11 percent. But after 1983, the same increase in temperature caused a productivity drop of 29 percent. A one-degree rise in average temperature has the potential to quadruple the frequency of these hot summers, which would result in high productivity loss every four years.
The United States needs to examine policies that lead to regional specialization, and with it, vulnerability to climate change, the researchers said.
"It's not what we can do, but it is where we are headed," Chambers said. "History has taught us that farmers know how to adapt to changing climates, but this gives us an idea of trends in what we've done in the past to help see what to do in the future with new changes in the climate that are beyond what we've previously seen."
Watch a video produced by Cornell University further explaining the findings and implications of this work.
This article originally appeared in Maryland Today.
February 19, 2019
Prev
Next