How Alcohol Dilutes Anxiety
How Alcohol Dilutes Anxiety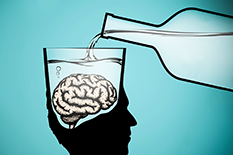 Tossing back a drink or two may feel like liquid courage, but it's really just dampening the brain circuits that regulate anxiety, according to new research from UMD's Department of Psychology.
The study, featured today in Scientific Reports, demonstrates for the first time that moderate consumption of alcohol, roughly the legal drinking limit, reduced reactivity of the central amygdala, a brain structure related to fear. The research provides important new clues about the neural systems involved in alcohol consumption and abuse in humans. To date, most work on the topic has relied on animal models,
Researchers used cutting-edge brain imaging techniques to compare the brain activity of people who drank either alcoholic or placebo cocktails. Intoxicated participants demonstrated significantly less reactivity than the control group in the central nucleus and the bed nucleus, the two major divisions of the brain's central extended amygdala.    
"Oftentimes, a glass or two of wine can take the edge off an anxiety-inducing situation, like a first date or a holiday office party," said Assistant Professor Alexander Shackman, who co-led the study. "Our results provide an important step to understanding why and how alcohol affects some of the brain regions most intimately involved in processing social cues and orchestrating states of fear and anxiety."
Shackman said this research sets the stage for improved treatments for alcohol abuse, a pervasive public health problem that costs the United States more than $250 million annually, according to the Centers for Disease Control. Recent research also shows that nearly three-quarters of Americans consumed some sort of alcohol in the past year, and 17.5 percent of them met the criteria for an alcohol-use disorder.
"Alcohol abuse imposes a staggering burden on public health and the economy and existing treatments are far from curative," said Juyoen Hur, a postdoctoral researcher and a lead author on the new paper. "By understanding the underlying neural and motivational systems, we can develop better methods for treatment and perhaps even prevention."
The study was the result of a collaboration between the University of Maryland, the University of California at Davis and the University of Wisconsin-Madison. Funding was provided by the University of Maryland and the National Institutes of Health.
This article originally appeared in Maryland Today.
November 12, 2018
Prev
Next