How do you like them apples?
How do you like them apples?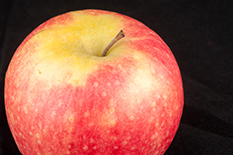 Apple growers in the mid-Atlantic region have faced challenges for years with "grower-friendly" apple trees related to complex branch maintenance, high labor costs, disease-prone varieties, and long waiting periods between fruit bearings. Christopher Walsh, Professor of Plant Science and Landscape Architecture in the College of Agriculture and Natural Resources, and Graduate Assistant Julia Harshman have developed a new apple tree variety that accommodates the demands of Mid-Atlantic apple growers and adapts to the region's hot summer—the Antietam Blush.
The Antietam Blush is an alternative to the current "grower-friendly" dwarf apple tree that requires the labor-intensive method of budding, pruning, and branch angle manipulation. The traits developed by Walsh and Harshman in the Antietam Blush will reduce labor costs and increase production through a shorter and narrower tree, a more effective branching profile, and a higher drought and disease resistance. The researchers also managed to maintain a fruit flavor profile similar to the commercial varieties from which the tree was developed.
"Many years ago we recognized the need for apple trees that would tolerate Maryland's hot, humid summer climate.  Over time, we combined heat-tolerant fruit quality with a tree architecture that reduces the need for hand-pruning labor.   Antietam Blush is the first in a series of new apple varieties that combine these two "grower-friendly" characteristics," explains Professor Walsh. Julia remarks on the generous support system they have benefited from for the expansion of their work. "The overwhelming support of Maryland apple farmers shows that they are ready for this. Dr. Walsh has done an amazing job rallying an industry behind a revolutionary idea."
"I was wonderfully surprised, delighted and grateful to receive a nomination for Invention of the Year. My involvement with this project is going on seven years and Dr. Walsh has been pursuing this vision for more than twenty years," adds Harshman. Professor Walsh shares in her surprise. "There is a wealth of very exciting research going on at this campus. As someone who works to help commercial fruit growers, I never expected to be considered for this great honor," he says.
In 2013, the Office of Technology Commercialization (OTC) received 154 invention disclosures from the university renowned faculty. Ten of these inventions were selected as finalists for the Invention of the Year Awards, based on their impact on science, society, and market potential. Winners will be announced on April 29, 2014 at the Celebration of Innovation and Partnerships event.
About OTC: The University of Maryland created OTC in 1986 to provide expert guidance, support, and assistance in safeguarding intellectual property, encouraging research, facilitating technological transfer, and promoting collaborative research and development agreements with industrial sponsors. Visit their website for more information.
April 11, 2014
Prev
Next
As someone who works to help commercial fruit growers, I never expected to be considered for this great honor.
---
Did You Know
UMD is the only major public research university inside the Washington, DC beltway!!