Outsmarting Viruses
Outsmarting Viruses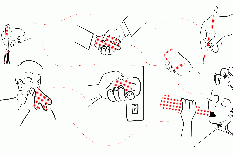 Does the way you breathe influence how likely you are to spread flu or colds? You might be able to help researchers ferret out that answer—and many others about how respiratory illnesses spread—by wearing an activity tracker as you go about your day on campus.
For more than a year, the CATCH the Virus study has been tracking volunteers at the University of Maryland as they get sick, stay well or hover somewhere in between in an effort to figure out what makes us contagious. Whether or not you fall ill, participants get paid—including through a daily cash lottery—and since Thanksgiving, the study has handed out $25,600 in total compensation.
The smart devices, which can endure laps in the pool and even a cycle through the washing machine, collect data on everything from activity levels and sleep quality to vital signs such as temperature, pulse and breathing patterns, all of which researchers will examine using machine learning and big data analysis to look for indicators of oncoming illness. The 150 participants in this phase of the research will receive an eight-pack for free—about a $300 value.
"The device will alert you to changes in your breathing and tell you if it is calm, focused or tense," said Hannah Weisman '19, a biological sciences major and clinical research assistant with the project who's been testing the devices. "I have noticed how often my breathing is tense."
The overall goal of the Catch the Virus study, led by Dr. Don Milton, a professor in the School of Public Health, is to identify biomarkers that indicate contagiousness—information that could be used to develop ways to stop the spread of respiratory viruses.
"With the raw data we are now gathering with the wearables, combined with the data on symptoms, we hope that we can identify an early onset signature for who would be most likely to spread an illness," said Milton. In the future, data from wearables might predict pandemics, or possibly prevent them, he said.
So far this year, 70 of the more than 420 participants in the overall study have become sick. Meanwhile, more than 20,000 hours of data have been collected from 76 people wearing the devices, Milton said. Participants include students from the Cambridge community residence halls, faculty and staff members, parents of children who attend the Center for Young Children, and others who live within five miles of the university.
Besides tracking wearables, participation involves providing baseline vitals, blood samples, getting your cell phone swabbed and sharing contact info for the people you spend the most time with.
For those who develop symptoms of a cold or flu, study staff follow up with friends and roommates to track their symptoms. They also gather participants' exhaled breath with Milton's Gesundheit II (G-II) machine, which he invented to measure how much virus people expel into the air around them.
The Biomedical Advanced Research and Development Authority (BARDA), part of the U.S. Department of Health and Human Services, is funding this new phase of the study.
With flu activity spiking around the country, Milton and team are still recruiting participants. If you live within five miles of campus and want to participate, email catch@umd.edu or call/text 424.246.8358.
This article originally appeared in Maryland Today.
February 25, 2019
Prev
Next
Did You Know
UMD is the only major public research university inside the Washington, DC beltway!!