Tracking a Movement for Justice
Tracking a Movement for Justice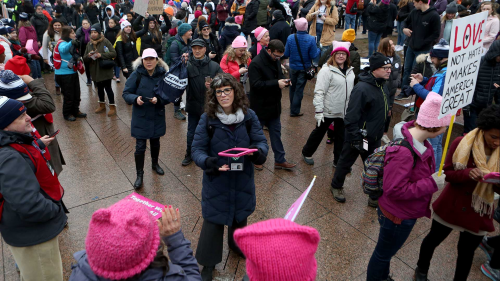 Researchers Team Up to Study Recent Mass Mobilization Efforts
As socially distanced participants gather at Friday's March on Washington to protest systemic racism and the murder of George Floyd and many other Black Americans, researchers from the University of Maryland will fan out through the crowd in search of evidence of a seismic shift in activists' views and methods of mobilizing for social justice.
Supported by a grant of roughly $50,000 from the Russell Sage Foundation, sociology Professor Dana R. Fisher and University of Glasgow Research Fellow Michael T. Heaney will lead a team of graduate student and faculty researchers to survey participants at the march this week and at two major upcoming public protests in Washington, D.C.: the Million People March in October and the Women's March in January. Researchers will also survey simultaneous satellite protests in New York City and Los Angeles.
Using a combination of electronic and paper surveys, Fisher and Heaney will gather information on the demographics, motivations and political affiliations of protesters, as well as how the events are organized. 
"Many have observed that the Black Lives Matter movement and large-scale protests in general seem different since George Floyd's murder—more coordinated and more diverse in terms of participant race, age and gender," said Fisher, an expert on protest movements and author of the 2019 book "American Resistance: From the Women's March to the Blue Wave." "We're using the scientific method of studying protest we've developed over the last several years to determine whether we really are seeing a new phase in racial justice organizing in the United States."
The researchers will also use an internet-based questionnaire to follow up with people surveyed at protest events from 2017 to 2019 to see if their views and motivations have changed since Floyd's death in police custody in May.
The research team is specifically interested in what drives younger Americans—those classified as Millennials and Generation Z—to join the most recent mass mobilizations. They've enlisted the expertise of government and politics Associate Professor Stella Rouse, a leading researcher on the political behaviors of America's youngest adults, to help analyze the data and interpret findings.
"The murders of George Floyd and other African Americans at the hands of police seem to be a major inflection point for many young people," said Rouse, author of "The Politics of Millennials." "The diversity of younger generations is an important factor and may signal a level of sustainability in protest movements not previously seen."
August 25, 2020
Prev
Next
---
Did You Know
UMD is the only major public research university inside the Washington, DC beltway!!