Two UMD Professors Elected to National Academy of Engineering
Two UMD Professors Elected to National Academy of Engineering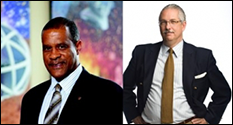 Two University of Maryland faculty members have been elected to the National Academy of Engineering. Antonio Busalacchi, professor of atmospheric and ocean science and director of the Earth System Science Interdisciplinary Center, and James E. Hubbard, Jr., Aerospace Engineering Samuel P. Langley Distinguished Professor, will be inducted later this year during a ceremony held in Washington, D.C. 
"On behalf of the University of Maryland community, we congratulate Professors Busalacchi and Hubbard," said University of Maryland President Wallace D. Loh. "All of us are proud to stand in the reflected honor of their accomplishments."
Busalacchi was recognized for his contributions to our "understanding of tropical oceans in coupled climate systems via remotely sensed observations and for international leadership of climate prediction/projection research."
Hubbard was recognized for "advances in the modeling, design, analyses and application of adaptive structures." 
National Academy of Engineering members have distinguished themselves in business and academic management, in technical positions, as university faculty, and as leaders in government and private engineering organizations. 
An oceanographer and climate expert, Busalacchi currently serves as co-chair of the National Research Council's Decadal Survey for Earth Science and Applications from Space. The survey committee will develop priorities and support observation activities for NASA, the National Oceanic and Atmospheric Administration, and the U.S. Geological Survey from 2018 through 2027. Busalacchi also chairs UMD's Council on the Environment and serves as a trustee of the University Corporation for Atmospheric Research.
Hubbard is director of the Alexander Brown Center for Adaptive Aerospace Vehicle Technology and Morpheus Laboratory, headquartered in Langley, Va. This center is a dynamic research facility focused on aerospace applications of smart materials and adaptive structures, where his research areas involve the design, analysis, simulation and fabrication of spatially distributed systems, smart materials, smart structures and smart transducers. 
Today's announcement brings the total number of active UMD faculty members in the NAE to 25. There are 2,277 NAE members nationwide and 233 foreign members. This group includes NAE President and former UMD President and Regents Professor Dan Mote Jr.
For the complete list of new academy members, visit the NAE press release: https://www.nae.edu/Projects/MediaRoom/20095/149240/149788.aspx
February 8, 2016
Prev
Next