UMD Capitol Hill Forum Addresses Disparities Research, Action for Health Equity
UMD Capitol Hill Forum Addresses Disparities Research, Action for Health Equity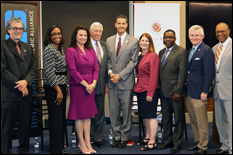 The University of Maryland, in collaboration with Rep. John P. Sarbanes and the Big Ten Academic Alliance, convened more than 100 people for a, Research on the Hill forum focused on strategies to achieve health equity on Sept. 8 at the Rayburn House Office Building in Washington, D.C. Moderated by Stephen B. Thomas, Ph.D., professor and director of the Maryland Center for Health Equity in the UMD School of Public Health, the panel discussion engaged experts from academia, federal health agencies and the private business sector in a candid conversation about how to eliminate racial and ethnic health disparities among vulnerable populations.
"Our exploratory research holds the solutions to many of the most challenging problems of our day," said UMD Vice President and Chief Research Officer Patrick G. O'Shea, Ph.D. "As a university, it is our mission to create and understand knowledge to develop better ways to house and heal and fuel and feed our people in advanced societies that are just, secure, and free. Achieving health equity touches on the 'heal' aspect of that mission."
The topics ranged from the progress that has been made in access to medical care as a result of the Affordable Care Act (ACA) to challenges that still remain in improving quality of care and in making the medical care system incorporate public health and address the social determinants of health that prevent people from acting health promotion and disease prevention recommendations. 
"The state of Maryland has embraced the ACA and there is clear evidence that the new incentives are indeed moving hospital systems away from a fee-for-service business model to one that rewards quality care and positive health outcomes over the volume of procedures," said Thomas. "While the transition is not perfect, our state is a national leader for what the future of health care will look like."
Panel members shared examples of effective and innovative community-based health interventions and public-private partnerships that are making a difference through culturally-tailored health promotion and disease prevention services, and highlighted the emergence of social determinants of health such as poverty, discrimination and residential segregation as factors that must be overcome.
 "I'm convinced that if you address racial and ethnic disparities with respect to the delivery of health care and health care coverage in this country, you will build the best health care system we can possibly have because diversity is our country's hallmark," said Congressman Sarbanes, who, as a member of the House Energy and Commerce Committee, has been a tireless advocate for improving healthcare quality and addressing health disparities.
To achieve health equity, researchers, policymakers, and industry leaders must address broader issues beyond the traditional biomedical model and build trust between those who control health care delivery system and those who have lost hope in the system, said members of the panel.  
The panelists recommended that health equity be incorporated into all public policies, not just those related to health care, to reduce and ultimately eliminate health disparities. 
Panel members included:
Margo Edmunds, Ph.D., Vice President, Evidence Generation and Translation at Academy Health
J. Nadine Gracia, M.D., M.S.C.E., Deputy Assistant Secretary for Minority Health and Director of the Office of Minority Health within the U.S. Department of Health and Human Services
Julia Huggins, President of Cigna Mid-Atlantic
Kolawole Okuyemi, M.D., MPH, Professor of the Department of Family Medicine and Community Health, Director of the Program in Health Disparities Research and Inaugural Endowed Chair for Health Equity at the University of Minnesota
Eliseo Pérez-Stable, M.D., Director of the National Institute on Minority Health and Health Disparities at the National Institutes of Health.
House Democratic Whip Steny H. Hoyer, who represents Maryland's 5th Congressional District and is a distinguished UMD alumnus, also joined the event and emphasized that as an interconnected community, we should all care about health disparities.
"It is unacceptable that in the United States, where all are created equal in the words of our Declaration of Independence, that one's access to healthcare may be higher or lower as a result of race, gender, or income," said Congressman Hoyer. "Everybody being healthy is of concern to each and every one of us."
He discussed how we must continue to defend the patient protections that Americans are benefiting from thanks to the ACA, such as the no-cost access to preventive services like mammograms and immunizations, as well as remind people of the dramatic increase in the number of people, particularly people of color, who now have health coverage as a result.
The event was held as part of the University of Maryland's Research on the Hill series, which is aimed at raising awareness of research with great societal significance. 
View the conversation at: https://youtu.be/HPedKr0jZLQ
September 19, 2016
Prev
Next