UMD Celebrates Research Leaders, Announces Research Communicator Impact Award Winners
UMD Celebrates Research Leaders, Announces Research Communicator Impact Award Winners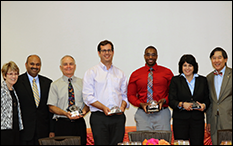 The University of Maryland's (UMD) Division of Research celebrated faculty research achievements and announced the winners of its 2nd Annual Research Communicator Impact Award at the 18th Annual Research Leaders Luncheon on October 18, 2016.
UMD Interim Vice President and Chief Research Officer Amitabh Varshney emceed the event, and UMD President Wallace D. Loh made special remarks. Mary Sue Coleman, president of the Association of American Universities, delivered keynote remarks. 
The Research Communicator Impact Award was established in 2015 to recognize researchers who take a proactive approach to sharing their research or opinions on research issues and policies with the public through op-ed style articles published in prominent news outlets and through self-produced videos and blogs.
"The value of university research ripples beyond the academy and into daily life," said Varshney. "Communicating our research to the greater good is an essential component of our mission to achieve global impact."
A committee of UMD faculty and staff members evaluated the submissions based on each piece's quality, impact, and visibility.

The winners of the 2016 "Research Communicator Impact Award" are:
More than 30 faculty submissions were received for the Research Communicator Impact Award, representing disciplines in 10 of the university's 12 colleges and schools.
"Recognizing those who have made the effort to interpret their work beyond their discipline encourages creative thinking, inspired writing, and compelling videos, whose success benefits everyone in the UMD community," said UMD Distinguished Professor Ben Shneiderman, whose vision was instrumental in the establishment of the award in 2015. 
View images from the 18th Annual Research Leaders Luncheon.
October 19, 2016
Prev
Next