UMD Convenes Experts to Discuss Innovative and Objective Approaches to Bias-Free Policing
UMD Convenes Experts to Discuss Innovative and Objective Approaches to Bias-Free Policing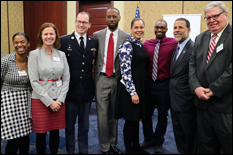 Over the last few years, news stories from across the nation have drawn increasing attention to the role of implicit bias in police-community interactions. On February 7, 2018, the University of Maryland, in collaboration with Congressman Anthony Brown and the Big Ten Academic Alliance, convened a Research on the Hill forum on Capitol Hill to discuss "Innovative and Objective Approaches to Bias-Free Policing: Collaborations Between Police Departments and Universities." 
Implicit bias describes the associations we unconsciously make between seemingly unrelated factors, including gender, race, level of education, nationality, physiology, age, or geographic area, among many other attributes. With these unconscious associations, people unknowingly create mental shortcuts to aid in decision-making. However, in certain situations, a quick decision based upon unconscious associations can be lethal.
The panel discussion, which took place at the U.S. Capitol Visitor Center, was moderated by Kris Marsh, associate professor of sociology at UMD, and included Reverend Tony Lee, founder and senior pastor of Community of Hope AME Church; Destiny Peery, associate professor of law and psychology at Northwestern University; Rashawn Ray, associate professor of sociology at UMD; and Henry P. Stawinski, III, chief of the Prince George's County Police Department. The nearly 100 attendees included congressional staff, law enforcement officers, and others from the public and private sectors. 
After opening remarks by UMD Vice President for Research Laurie E. Locascio, Congressman Anthony Brown, who co-sponsored the event, and Senator Chris Van Hollen shared their voices on the topic of bias-free policing. 
"We all have biases in ourselves. In everything we do in life, we are shaped and influenced whether we know it or not by the biases we have," said Congressman Brown. "I'm excited that the Prince George's County Police Department and law enforcement agencies across this country are working to better understand how we address, confront, train, and change the way that our biases influence the actions we take."
In Prince George's County, Md., researchers at the University of Maryland have teamed with the Prince George's County Police Department to study implicit bias in policing, using data, virtual reality, and physiological metrics to enhance training for all 1,700 sworn officers in the county. The new training program, which will launch in March, is the result of a multidisciplinary partnership between the UMD Department of Sociology, Lab for Applied Social Science Research, and MLAW Program; and the UMD Institute for Advanced Computer Studies.
The use of virtual reality scenarios for implicit bias training make this innovative research-based program unlike any other program in the country. Because of its uniqueness, the program is poised to become a paradigm for other law enforcement agencies.
"I commend the University of Maryland and the Prince George's County Police Department for implementing this innovative training program to better ensure that all Americans are treated equally and fairly by law enforcement. Working together, there are steps we can all take to improve and strengthen the relationship between police officers and all the communities they serve," said Senator Van Hollen. "I'm hopeful this program will expand across Maryland and the entire country, and I will continue pressing my colleagues in Congress to address criminal justice reform with urgency."
UMD's Research on the Hill series explores timely, relevant, and critical societal issues through both a research and policy lens, providing lively and informative events featuring content experts on Capitol Hill. Past Research on the Hill events have brought academic, industry, and government leaders together to address topics ranging from traumatic brain injury to disaster resilience, autonomous vehicles to health equity.
For video, photos, and more information about the Research on the Hill series, visit: https://research.umd.edu/researchonthehill
February 21, 2018
Prev
Next