UMD Inventors Determined to Save Lives and Cure Leukemia
UMD Inventors Determined to Save Lives and Cure Leukemia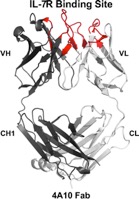 Acute Lymphoblastic Leukemia (ALL) is the most common cancer in children, and although survival rates are steadily increasing, leukemia causes more deaths in children and young people than any other form of cancer.
But University of Maryland researchers Scott Walsh, assistant professor in the Department of Cell Biology and Molecular Genetics and in the Institute for Bioscience and Biotechnology Research, and Lila Kashi, a faculty assistant in the Institute for Bioscience and Biotechnology Research, are on the case. Together with Scott Durum, Julie Hixon, and Wen Qing Li from the National Cancer Institute (NCI), the researchers created a potential new treatment strategy for leukemia. 
The team developed two new antibodies that target leukemia cells expressing a cell surface receptor called the interleukin-7 receptor (IL-7R, Figure 1).  The response is twofold.  First, the antibodies signal the body's white blood cells to attack and destroy cancer cells that express the IL-7R.  Additionally, the antibodies can be used to identify and classify leukemia cells in order to provide a diagnosis for subsequent immunological experimentation. 
Researchers have never targeted the IL-7R before, making the team's approach unique.
"These antibodies may have the potential to load the oncologist's tool belt with new treatment strategies for children suffering from ALL," said Walsh, "and the antibodies may also be clinically useful to treat leukemia in adults." 
The team has successfully conducted experiments using mice, and the next step will be to conduct clinical trials that will test the effectiveness of the antibodies in humans. Durum applied to the NCI's Experimental Therapeutics (NExT) program to start clinical trials, and Walsh aims to create a biotechnology startup company to continue his research and develop new therapies that target IL-7R signaling cascades. 
Walsh and Durum began studying the IL-7R signaling pathway together in 2007 and decided to translate their research results into a potential human therapy. Walsh received funding from the National Institute of Allergy and Infectious Diseases at the National Institutes of Health (NIH), and Durum was funded by the Children's Cancer Research Fund and the NCI intramural research program at the NIH.
The team's potential leukemia treatment has been nominated by UMD's Office of Technology Commercialization for the Invention of the Year award in the Life Sciences category at the Celebration of Innovation and Partnerships on May 9th as part of the University of Maryland's "30 Days of EnTERPreneurship." 
To learn more about "30 Days of EnTERPreneurship," visit: http://www.umd.edu/30Days/.
April 25, 2016
Prev
Next