UMD Researchers Create Affordable Camera Array That Captures Light Fields for Virtual Reality Applications
UMD Researchers Create Affordable Camera Array That Captures Light Fields for Virtual Reality Applications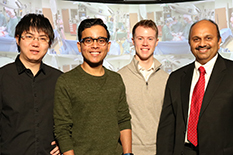 From the flickering silent films of the past to the jaw-dropping 3-D films of the present, video graphic technology has advanced drastically since its humble beginnings in the late 19th century. Now, with the emergence of virtual reality (VR) and augmented reality (AR), entertainment and opportunities to encounter other cultures, lives, and experiences have never been more accessible.
But the high cost of imaging equipment and the difficulty of capturing high-quality images has limited the capability to capture and create VR and AR environments. That is why a research team at the University of Maryland (UMD) has invented a low-cost camera array that can capture a realistic environment in high-quality detail.
Sixteen cameras are arranged in a hexagonal shape in order to record images as the eye sees them of scenes, events, and environments. The scalable arrangement can capture meticulous, detailed experiences – either massive or miniature – for educational purposes, eliminating the struggle of manually creating VR environments.
"Currently, VR and AR environments are manually and laboriously constructed by a designer, which works well for computer games with predetermined, artistically created, virtual 3-D content," said Professor of Computer Science Amitabh Varshney, who is currently on leave from his role as director of UMIACS to serve as UMD interim vice president for research. "However, for applications with submillimeter accuracy and real-time scene acquisition requirement, such as manufacturing, and medical education and training, this manual labor-intensive process has to be replaced with a scalable high-quality 3-D scene acquisition." 
The team's invention could be used in a variety of training applications, for example, to record doctors conducting surgery, a person repairing a large power turbine, and other occupations with complex procedures that are difficult to replicate and need to be taught to a lot of students.
"Experiential learning is a powerful way to teach," said Varshney. "This recording can be seen by any number of students at the same time, the invention could lead to new breakthroughs in teaching, training, as well as entertainment."
In addition to Varshney, the invention team includes: College of Information Studies graduate student Mukul Agarwal; computer science graduate student and UMIACS research assistant Ruofei Du; and electrical engineering and UMIACS research assistant Corey Ferrick.
The research team expects that their invention will not only refresh the way that we educate and entertain, but could ultimately help reinvent the way humans communicate.
"We hope this invention will be used in schools, universities, businesses and other fields where communication is a key aspect, ultimately leading to better communication, education, training and improvements in virtually every aspect of our human lives," said Varshney. 
The team's research was funded by National Science Foundation Grant 14-29404 and Maryland's MPowering the State initiative.
To learn more about this team research, visit http://www.augmentarium.com/
The camera array invention has been nominated for the 2016 Invention of the Year Award in the information sciences category. The winners will be honored at "Innovate Maryland," a special Celebration of Innovation and Partnerships on April 12, 2017 as part of the University of Maryland's "30 Days of EnTERPreneurship."
March 30, 2017
Prev
Next