UMD Researchers Reinvent Charging Interface for Electric Cars
UMD Researchers Reinvent Charging Interface for Electric Cars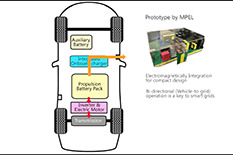 Electric vehicles have steadily gained popularity over the past few years, with a record-breaking 200,000 sold in the United States and over 1.2 million sold worldwide in 2017, according to Inside EVs. While sales grow, electric vehicles have yet to reach widespread consumer adoption, as vehicle manufacturers aim to reduce their cost.
One reason why electric vehicles are so expensive is because their batteries and powertrain electrical components, including charging systems, are large, heavy, inefficient, and costly. Electric cars have two batteries: a high-voltage (HV) battery propels the vehicle, and a low-voltage (LV) battery powers the auxiliary functions of the car, such as air conditioning, entertainment, windshield wipers, and headlights. The HV battery is powered by an onboard charger, and the LV, auxiliary battery is powered through another converter from the HV battery. This system is both bulky and inefficient.
However, University of Maryland researchers have invented a new electronic interface for electric vehicles that integrates the HV battery charger and power converter to create a combined charger. This highly compact technology is more than 50 percent cheaper and lighter, almost 40 percent smaller, and 8 percent more efficient than current power systems. Additionally, the system has both vehicle-to-grid charging and grid-to-vehicle smart grid support capability, meaning that the electricity can flow in both directions rather than just to a car's battery. In the event of a power outage, the electric vehicle can serve as a power source for electrical appliances or as a backup generator during a power outage.
The "Integrated Power Electronics Interface for Enhanced Electric Vehicle Charging" was invented by researchers from the UMD A. James Clark School of Engineering: Alireza Khaligh, associate professor in the Department of Electrical and Computer Engineering and Institute for Systems Research, and electrical and computer engineering Ph.D. students Jiangheng Lu and Ayan Mallik.
The team's research was funded by grants from the National Science Foundation (NSF) and the Maryland Technology Development Corporation (TEDCO). The team also recently received a NSF Innovation Corps (I-Corps) grant to fund commercialization of the technology.
Khaligh is currently in the process of establishing a startup company to develop the technology.
"I am passionate about helping the environment through the enhancement and development of the electric car industry," said Khaligh. "I would love to see the broader impacts of our research in society."
The Integrated Power Electronics Interface for Enhanced Electric Vehicle Charging has been nominated for the Invention of the Year award in the physical sciences category, for which the winners will be announced at the 2018 Innovate Maryland celebration on April 11.
More information about the team's invention can be found in their recently published article in IEEE Transactions on Vehicular Technology: An integrated dual-output isolated converter for plug-in electric vehicles.
Learn more about Innovate Maryland and the Invention of the Year Award nominees.
March 22, 2018
Prev
Next