UMD Team Again Wins National Affordable Housing Design Competition
UMD Team Again Wins National Affordable Housing Design Competition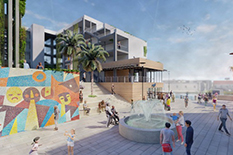 For the second year in a row, a team of graduate students from the School of Architecture, Planning and Preservation has won the Innovation in Affordable Housing Student Design and Planning Competition sponsored by the U.S. Department of Housing and Urban Development (HUD). UMD teams finished first last year and second in 2016, their only two previous entries in the 6-year-old competition.
This year the University of Maryland team took first place and the $20,000 top prize with its design for Brooklyn Bend, a mixed-use housing and retail development for low- and moderate-income residents located along San Antonio's Riverwalk. Results were announced Wednesday. Defending champion Maryland beat out more than 70 other teams, including the other three finalists, second place University of California, Berkeley, and runners-up Yale University and Virginia Tech.
Judges cited the team's well-developed financial package and understanding of the concepts behind the proposal, and commended the project for having the highest population density among the four finalists. The design, which fronts the San Antonio River, emphasizes energy efficiency, water pollution control and promotion of healthy lifestyles.
Instead of a layout that included just one or two large buildings, the team designed a village-like development with a variety of housing unit designs and sizes to meet a wide range of needs, said Kyle Huck (dual master's degree program in architecture and real estate development).
"All the proposals were unique in their own ways, but I think what set ours apart was that we really tried to use the site to its highest and best use," he said, "and not just meet the requirements but to use the site as appropriately as possible to create a proposal that was more dense, which results in a greater amount of affordable housing."
"We have a lot of dual degrees on our team," said Cassandra Huntington (dual master's degree program in architecture and real estate development). "The fact that we have the real estate development degree in addition to the architecture degree gives us a leg up on most of the competition, because we have a better understanding of both the design and the finance sides."
In addition to graduate students Huck and Huntington, other members of the team are:  Lauren Stamm (master's degree program in community planning); Andrew Mazer (master's degree program in architecture); and Nyasha Mandima (master's degree program in real estate development). The team's advisors are Maria Day-Marshall, director of UMD's Real Estate Development Program. and Rob McClennan, senior project manager, Bonstra | Haresign Architects, AIA, and UMD adjunct professor.
Donald Linebaugh, interim dean of the School of Architecture, Planning and Preservation, said the Maryland team's design demonstrated the strengths of the school's interdisciplinary approach.
"Their winning submission was a thoughtful and nuanced response to a challenging site along San Antonio's Riverwalk," said Donald Linebaugh, interim dean of the School of Architecture, Planning and Preservation. "They drew on their strengths in design, planning, and real estate finance to craft a project that put people and community first, activating the site and delivering a safe, affordable, and beautiful housing solution."
"With 12 dual degree programs in our School," explained Linebaugh, "MAPP+D is a national leader in interdisciplinary graduate education. And the students' innovative winning submission, clearly demonstrates the strengths of our interdisciplinary approach to the built environment."  
The San Antonio Housing Authority board, which is looking to redevelop the site, will review the winning proposal in coming months.
According to HUD, "the need for quality, affordable housing has never been greater," and its affordable housing competition is intended to "advance the design and production of livable and sustainable housing for low- and moderate-income people through research and innovation."
"When it comes to creating innovative affordable housing, HUD does not do this work alone," HUD Secretary Ben Carson said in a statement. "Congratulations to the University of Maryland and all of our finalists, for their consciousness stream of good ideas that increases housing opportunity for Americans with modest incomes."
This article originally appeared on UMD Right Now.
April 22, 2019
Prev
Next
Did You Know
UMD is the only major public research university inside the Washington, DC beltway!!