UMD/Luminis Partnership Provides COVID-19 Vaccinations in the Trusted Barber's Chair
UMD/Luminis Partnership Provides COVID-19 Vaccinations in the Trusted Barber's Chair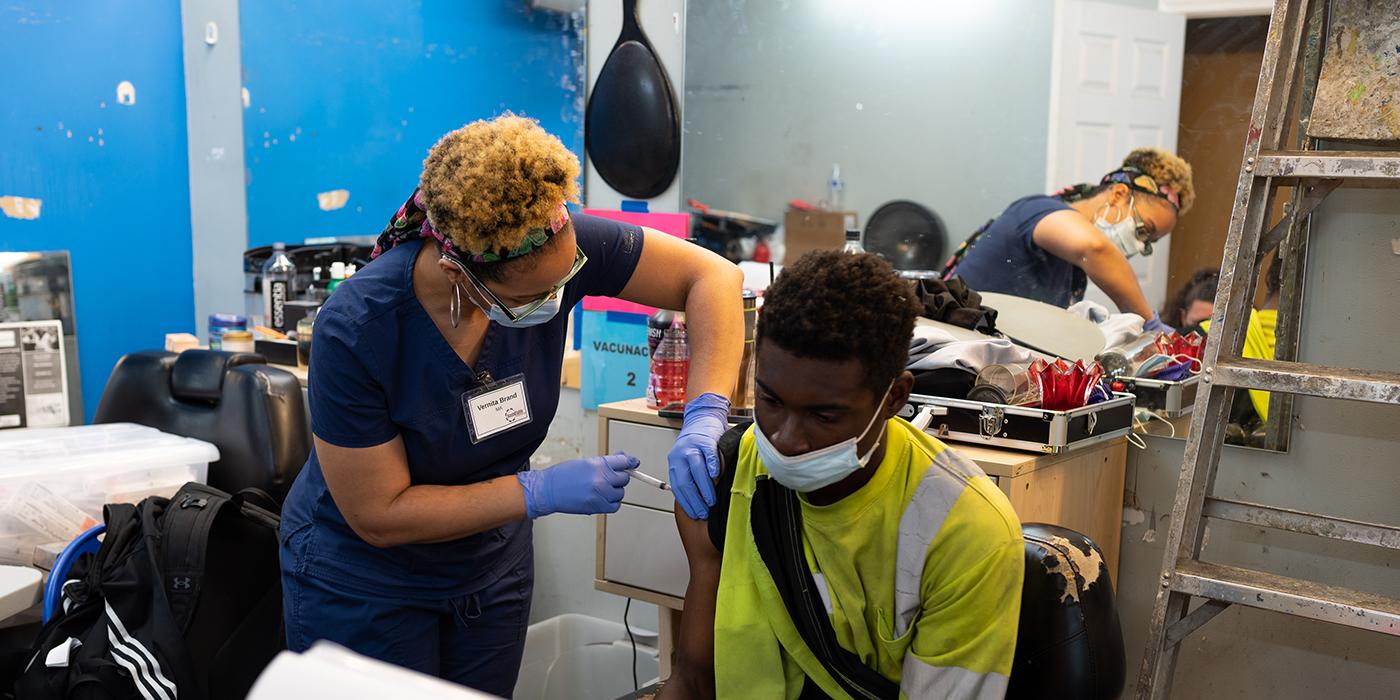 A Hyattsville barbershop, called The Shop Spa, was the first Maryland barbershop to serve as a venue for people to get their COVID-19 vaccines this week. Organizers are working to make sure it is not the last. 
Organized as a partnership between Luminis Health and the Health Advocates in Reach and Research (HAIR) project of the University of Maryland School of Public Health's Center for Health Equity, the clinic aimed to attract those in the community who have been hard to convince to get vaccinated. In Maryland, many of those not yet vaccinated fall into the category of "system distrusters," as defined in a recent New York Times article: Meet the Four Kinds of People Holding Us Back From Full Vaccination.
Distrust of the healthcare system runs deep in the African American and Latino communities, so having trusted, non-traditional messengers share health promotion and disease prevention information is the strategy that Dr. Stephen Thomas, director of the Center for Health Equity, has been using to move the needle in these communities hard hit by COVID-19. 
Since 2010, Dr. Thomas and his Center for Health Equity team have been training barbers and stylists as community health workers who can educate their clients about prevention of colon cancer, diabetes, and other preventable chronic diseases. The benefit is that barbers and stylists are influencers, with "street credibility," according to Thomas, and they understand the pulse beat of the community. His HAIR network now includes 10 barbershops and salons. The Shop Spa, where Mike Brown is the lead barber, was the first to join the effort. 
Brown and Katrina Randolph, a salon owner and stylist who is also a community health advocate with HAIR, both urged friends, relatives and clients to get vaccinated at The Shop Spa. They both are used to hearing from people who have been influenced by conspiracy theories or misinformation about the vaccines. 
At the COVID-19 clinic on May 17, Dr. Thomas estimates that the HAIR outreach efforts drew in approximately 100 individuals eligible for vaccination. While fewer than that actually opted to get the vaccine that day, the hope is that micro-targeted events at barbershops and salons may make a big difference over time in reaching higher risk populations who have a variety of reasons for being skeptical and hesitant to take the vaccine. 
"This was a perfect example of population health at its finest," said Deneen Richmond, president of Luminis Health in an email. "The Center for Health Equity has been in the 'trenches' working with these barber shops and beauty salons to address health disparities well before the pandemic. Leveraging them to address vaccine equity was a natural next step."
In the coming weeks and months, Dr. Thomas plans to hold more vaccine clinics at beauty salons in the HAIR network. He believes that more targeted messaging is needed to dispel myths and increase trust in all the vaccines that are available, since some declined to get vaccinated at the Shop Spa because they expressed concern about taking the Johnson & Johnson vaccine. 
For small pop-up clinics like the one at the barbershop, the Johnson & Johnson vaccine is easier for a medical team to transport and because of it being only one shot, it eliminates the need to schedule a second appointment.  
Work remains to close the vaccine racial gap, yet Dr. Thomas is optimistic that this approach based on personal contact has the best chance of making the difference. 
"We have seen people move from, 'Hell no,' I'm not taking the vaccine, to 'maybe.' And the people who are saying 'maybe' to 'where do I sign up,'" Thomas said in an interview with the USA Today. 
Dr. Stephen Thomas (Maryland Center for Health Equity), Deneen Richmond (Luminis Health), Katrina Randolph and Mike Brown (both certified community health workers) talk about how barbers and stylists can persuade people to get vaccinated against COVID-19.
Related News: 
May 20, 2021
Prev
Next
---
Did You Know
UMD is the only major public research university inside the Washington, DC beltway!!