UMD's Autonomous Vehicle Laboratory Featured in The Accelerator
UMD's Autonomous Vehicle Laboratory Featured in The Accelerator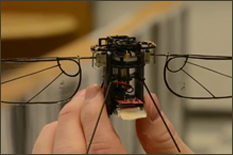 The University of Maryland (UMD) Autonomous Vehicles Laboratory (AVL) was featured in this month's issue of The Accelerator, a monthly e-newsletter and blog published by the American Society for Engineering Education.
"Spotlight: The Benefits of Biomimicry" highlighted current research in the area of biologically inspired engineering. Taking cues from nature's creatures, like bees and termites, researchers are developing solutions to complex engineering challenges.
Researchers at AVL are currently working on a number of projects to improve flight for autonomous flying vehicles. As part of the project, MURI – AIRFOILS: Animal-Inspired Robust Flight with Outer and Inner Loop Strategies, researchers at the lab are observing bee behavior—in particular, how bees fly in windy conditions—to improve vehicles' ability to handle changing environmental conditions such as wind gusts and turbulence. The team's goal is to build micro- and nano-scale vehicles that could be used in disaster site exploration or observation and reconnaissance applications.
Learn more about AVL's biologically inspired autonomous vehicle research.

AVL is directed by Techno-Sciences Professor of Aerospace Engineering Innovation J. Sean Humbert and is a facility in UMD's Department of Aerospace Engineering.
Related Articles:
UMD, UMBC, ARL Announce Cooperative Agreement to Accelerate AI, Autonomy in Complex Environments
UMD Awarded $4.6 Million Rehabilitation Engineering Research Center
Maryland engineers receive $10M to transform shellfish farming
Advancing Healthcare through Robotics and Machine Learning
Helping robots remember
Visionary choreographer Huang Yi performs at Maryland, visits Robot Realization Lab
Robo Raven on Display at a Major International Design Exhibit in France
New AFOSR NIFTI Center features eight Clark School faculty
March 27, 2014
Prev
Next
Did You Know
UMD is the only major public research university inside the Washington, DC beltway!!