University of Maryland and University College Cork Enter into Partnership
University of Maryland and University College Cork Enter into Partnership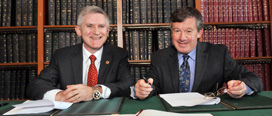 The University of Maryland entered into a formal partnership with the University College Cork (UCC) in Ireland during a three day visit to Cork by a delegation from Maryland, led by Maryland Secretary of State John McDonough and University Vice President and Chief Research Officer Dr. Patrick O'Shea. The Memorandum of Understanding between UCC and the University of Maryland was signed by Patrick O'Shea and UCC President, Dr. Michael Murphy. O'Shea said, "This new agreement provides for a transatlantic cooperation that will meet the many challenges of the twenty-first century."
This partnership aims to create a wide range of collaborative educational activities, student and staff exchange, and research collaborations in areas including Information and Communication Technology (ICT), Physics, Engineering, Energy, Marine and Environmental Sciences, and Business, blending economic development initiatives with education and research priorities. The agreement also provides for an exchange of students in the area of Sport.
O'Shea and McDonough were also in Cork for the unveiling of a commemorative plaque at Cork's Imperial Hotel to mark a visit to the city 167 years ago by one of the most iconic figures in American history: Frederick Douglass. Douglass, a Marylander himself, inspired the abolitionist movement in the United States, Britain and Ireland, making speeches on his experiences with slavery and escaping from it.
For more information, visit: http://www.newsdesk.umd.edu/uniini/release.cfm?ArticleID=2765
August 30, 2012
Prev
Next
Did You Know
UMD is the only major public research university inside the Washington, DC beltway!!