Unwelcome Inheritance
Unwelcome Inheritance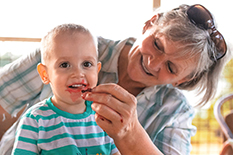 You've heard that you are what you eat, but have you heard that you are what your grandmother ate too?
UMD researchers are exploring how nutrition crosses generational lines by more closely examining the genetic and hereditary components behind "insulin signaling," and how it's connected to poor nutrition during pregnancy, low birth weight, and to the later development of diabetes and other metabolic disorders.
Chad Stahl, chair of the Department of Animal and Avian Sciences, and Bhanu Telugu, associate professor in the same department, are principal investigators on a new $1.6 million grant designed to benefit both animal and human health from the Eunice Kennedy Shriver National Institute of Child Health and Human Development, part of the National Institutes of Health.
The mother's nutrition during pregnancy has a profound effect on the growth and metabolism of the child that lasts even after birth, potentially causing stunted growth and metabolic diseases later in life, the researchers say.
Poor nutrition hurts mitochondria—organelles within cells that convert chemical energy from food to usable energy—and when passed down through generations, can effectively program the body to expect poor nutrition throughout life. This leads to smaller organs and an inability to process necessary nutrients.
"This occurs naturally in pigs, with low birth-weight piglets eating the same amount of feed as their littermates, but growing slower and having lower market weight, causing economic losses to the farmers," Telegu said.
Pigs are a particularly valuable model organism for the study of diabetes, heart disease and obesity, said Stahl, an expert in metabolic function and how it relates to insulin resistance. "Pigs are the best animal model for neonatal nutrition—the metabolism and physiology of pigs and humans are extremely similar."
Telugu works with CRISPR/Cas, a tool used for gene editing, studying a specific gene, GRB10, that inhibits insulin signaling and leads to insulin resistance.
"There is evidence that knocking out the gene leads to larger, healthier offspring with better insulin sensitivity who are less likely to develop diabetes and other metabolic diseases," he said. "But we don't know exactly how this mechanism works, or how this is passed down through generations."
By monitoring across multiple generations, researchers can breed animals that are more viable and have less risk of low weight and meat yield. The techniques also apply to the fight against metabolic diseases in humans.
"If we can prove that this gene is instrumental in the development of metabolic diseases and diabetes, we can provide an additional screening tool to produce novel drugs that work on this signaling pathway, or even to prevent diabetes from occurring," Stahl said.
This article originally appeared in Maryland Today.
November 13, 2018
Prev
Next