Dachman-Soled Wins NSF Career Award
Dachman-Soled Wins NSF Career Award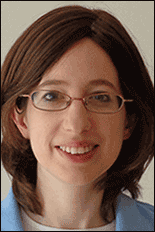 Professor Dana Dachman-Soled (ECE/UMIACS) is the recipient of a 2015 National Science Foundation Faculty Early Career Development (CAREER) Award for Non-Black-Box Cryptography: Defending Against and Benefiting from Access to Code. The five-year award is worth $495,000.
Regarding the award, Dachman-Soled said, "I am very excited to receive the NSF Faculty Early Career award. This grant will allow me to support and develop my research and educational agenda.  I am looking forward to using this opportunity to make an impact in my field."
Dachman-Soled is an assistant professor in the Department of Electrical and Computer Engineering, part of the A. James Clark School of Engineering at the University of Maryland. Her research interests include cryptography, complexity theory and security. Broadly, she has interests in cryptography including security against physical attacks, secure multiparty computation, and black-box complexity. She is also interested in property testing of Boolean functions and cryptographic hardness of learning.
Dachman-Soled is also affiliated with the Maryland Cybersecurity Center, UMIACS, and Computer Science. Prior to joining the University of Maryland, Dachman-Soled  spent two years at Microsoft Research New England. She completed her Ph.D. at Columbia University under the supervision of Prof. Tal Malkin.
About this research
Dachman-Soled's research focuses on developing cryptosystems that remain secure even when implemented on devices that are susceptible to side-channel attacks—attacks that depend on the particular algorithm and/or the specific implementation employed such as timing or fault-injection attacks. In practice, many cryptosystems can be completely reverse engineered via such attacks.  Her approach is to develop new cryptosystems that offer provable security against large classes of side-channel attacks, potentially even against attacks that are not yet known.
The Faculty Early Career Development (CAREER) Program offers the NSF's most prestigious awards in support of junior faculty who exemplify the role of teacher-scholars through outstanding research, excellent education and the integration of education and research within the context of the mission of their organizations.
Related Articles:
UMD Wins $5M Phase 2 NSF Convergence Accelerator Award
UMD Researchers Creating First Onboard Fast-Charging System for Electric Vehicles
NSF Funds Novel Research to Create Scalable Wireless Networking, Averting Usage Crisis
UMD Researchers Use Artificially Engineered Materials to Create Breakthrough for Sound Sensors
Li and Hu Awarded NSF Grant to Study Challenges in Creating Materials that are Both Stronger and Tougher
UMD Receives NSF Major Research Instrumentation Award in Support of Virtual and Augmented Reality
UMD Welcomes Johns Hopkins to DC Innovation Corps
UMD Launches New National Socio-Environmental Synthesis Center (SESYNC)
March 27, 2015
Prev
Next
Did You Know
UMD is the only major public research university inside the Washington, DC beltway!!