UMD Professor Receives $1.9M to Study Cell "Glue" Important in Disease
UMD Professor Receives $1.9M to Study Cell "Glue" Important in Disease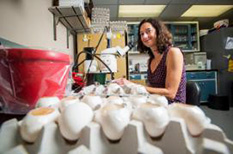 Lisa Taneyhill, Ph.D., an assistant professor in the Department of Animal and Avian Sciences at the University of Maryland, has been awarded a $1.9 million research grant from the National Institute of Dental and Craniofacial Research at the National Institutes of Health (NIH). Using chick embryos, Taneyhill and her colleagues will try to uncover how two different cell types migrate and adhere to each other to form the cranial ganglia – a cluster of nerve cells responsible for receiving sensory information like taste, touch and smell. These cellular interactions are critical throughout embryonic and adult development to form new tissues and organs, with abnormalities resulting in animal and human diseases or defects such as certain cancers, cleft palate and heart conditions
"Essentially, we're looking at the proteins – or the 'glue' – that keeps these two cell types together," explains Taneyhill. "If we are able to figure out why and how these cells interact, it will give us insight into how other tissues are formed and could even lead to advances in therapies based on organ repair and regeneration."
Employing deep sequencing technology, Taneyhill and her research team will use incubated chicken eggs to identify new genes that control cell movement and interactions in embryos at different stages of development.
"Chick embryo development is very similar to human embryo development," says Taneyhill. "This will give us a snapshot over different time periods into what is happening in the forming cranial ganglia. No one has really done this before at such an early time in embryo development."
Taneyhill, who was trained as a cancer biologist, says this project could serve as "an excellent model for cancer research, particularly how cancer cells become invasive" because cancer cells can act similarly to those she will be studying inside the chick embryos. The grant from the NIH will fund five years of research on this subject.
Related Articles:
Jewell Lab Awarded Two NIH R01 Bioengineering Research Grants
UMD, NIST Announce Joint Center for Quantum Information and Computer Science
Emerging Disease Could Wipe Out American, European Salamanders
UMD Alumnus and CEO, Brendan Iribe, purchases liscensing rights to UMD-founded Company
UMD and NIH Researchers Receive $1.7M BRAIN Grant to Investigate How Crowds of Neurons Process Sensory Information
Major Milestone in the Search for Water on Distant Planets
New Physical Sciences Complex Holds Revolutionary Promise
Using Light to Attack Cancer
UMD Transplant Organ Flight Named Invention of the Year
Envisioning the Future of Urban Transportation
October 7, 2014
Prev
Next
Did You Know
UMD is the only major public research university inside the Washington, DC beltway!!